Charming farmhouse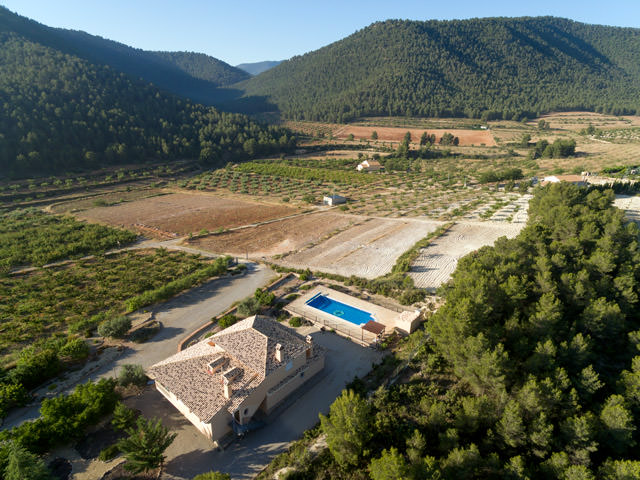 Agrolavia Farmhouse in Bullas is a unique place to rest and enjoy wine at one with nature. We are located at the crossroad of two of the most picturesque Monastrell winemaking valleys of the region, "Aceniche" and "Venta del Pino", spots of stunning beauty.
What makes us different?
Location & surroundings, facilities, professional treatment, experience & knowledge. Discover it by yourself!
Pick yourself some seasonal fruit and vegetables from our organic orchard.
Taste a large array of artisan products (wine, raw honey, olive oil, cheese, bread, spread & preserves)
Bird-watching at naked eye in a ZEPA area (Special Protected Area for Birds) we are surrounded by hilly forests filled with pine trees filled with healing herbs and grids of fruit trees.
Discover the cultural heritage of a region where Iberians, Romans, Visigoths & Arabs left a legacy of high value, accessible nowadays.
How is the house?
The house consist of 2 independent & full equipped floors, swimming pool, sports field, spacious common zones, organic orchad and facilities in the open to enjoy more than 2.800 sunlight hours a year.
First floor
Second floor
House exteriors
Features & Services
In the open
Garden & organic orchard where you can harvest seasonal fruits and vegetables.
Sports field, barbecue, parking lot, porch, playground for kids, garden furniture, swimming pool with thermic cover & salt purification system.
Inside
Wi-fi, central heating, sound system, dish washer, board games, ping-pong, T.V, DVD, washing machine, microwave, D.O.P Bullas wine minibar.
Wood & coal included, artisan products available, information leaflets of the area, pets are welcome under the responsibility of the owner.